The 'Mighty Tigers' Program
The Perfect Children's Martial Arts
Program for Your 8 - 12 Year Old!*
...
This fun and engaging class is also known as our...
"Strong-Kid / Safe-Kid" Program
...and is the perfect blend of life skills and self-defense for older, pre-teen children between the ages of 8 & 12*. (* Younger children may be accepted into this program, depending on size and/or maturity-level)
Your child will be guided by their instructors to develop the success traits of a positive leader, while also learning to deal with different types of bullying - including threats, name-calling, and negative peer-pressure. The unique curriculum taught in this program will arm your child with the confidence, discipline, and positive "Yes, I Can!" attitude needed to succeed in an often harsh, competitive world - and without scaring them, or making them paranoid.
Not to be confused with other programs with similar names, Warrior Concepts (formerly known as Miller's Martial Arts) was the first academy in the area to not only name it's older youth classes, "Mighty Tigers", but also the first and only program to base it's programs on three things:
The Primary Needs that parents like you have for your children at this age.
The Primary Threats & Dangers to Your Child
BASED ON PROVEN CRIME STATISTICS...
...and, of course...
Our Master Instructor's former Law Enforcement Experience!
Call Now to Schedule Your Child's First Introductory Trial Class!
Making Sure They're Safe & Protected!
In addition to learning and developing some rock-solid success and life-mastery traits, your child will also learn techniques and strategies for
defending against the school bully
as well as overcoming negative peer-pressure. The
Warrior Concepts Youth Mastery Program
(aka "Mighty Tigers") consists of lessons, strategies and tactics for helping kids like yours to effectively and efficiently protect themselves against:
Punching & kicking attacks
Grabbing, choking and throwing attacks
Bullying, intimidation & harassment
Unhealthy peer-pressure
Child abduction
And More!
If you want your child to have improved: 
Confidence
Respect
Discipline
Feeling of Pride & Accomplishment
Grades and appreciation for school
Health and overall fitness
Concentration & Focus
Ability to protect themselves from danger
In Short...
If you're a concerned parent or grandparent who wants to give your child a head-start in life, the
Warrior Concepts Youth Mastery Programs
could be just what you've been looking for.
Want to Learn More?
Download Your FREE Brochure detailing our Youth Programs, some background about our Master Instructor
, Jeffrey M. Miller,
and begin to see why WCI is the premier school for children's martial arts
in the Sunbury, Selinsgrove, Lewisburg and surrounding areas of the Central Susquehanna Valley! Just complete the short form below and you'll receive immediate access to your free brochure. In addition, you'll also receive complimentary tips, ideas and information via email from our Master Instructor to help you. So... Whether you're looking to give your child greater confidence, better self-discipline, respect for self and others, or self-defense skills against bullying and other dangers in today's often unsafe world...
Take action now and get your child started on the road to positive change, through the power of WCI's Martial Arts for Children!
---
Ready to Get Started Now?
If so, call 570-884-1118 to schedule your child's first Introductory Class.
Do it now before life gets in the way again and your child's development get's put on-hold!
---
A Special Book Many of Our Parents Recommend for You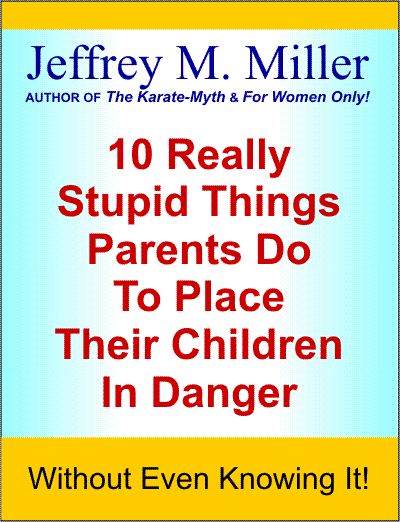 Click on the image for more information
And a Video Suggestion to Keep Your Family More Safe
Click on the image for more information